This is how Gatehouse's electronic visitor registration works
What are the advantages of Gatehouse?
Professional look
A first impression is very important, so your welcome is your entrence signboard. Get rid of the paper visitor registration.
Call-button
Call every visitor from the online evacuation list.
Time and cost saving
With electronic visitor registration, your receptionist(s) can fully focus on his or her core tasks.
Cloud solution
You only need a network connection to make Gatehouse® accessible, so nothing needs to be installed locally in your company.
Instructions
Give important internal instructions (video, pdf documents...). Adapted to the purpose of the visit (meeting, maintenance works, ...).
Invoice control for subcontractors
All data is stored in the Cloud. In just a few clicks you can quickly find specific data for audit or post-invoicing purposes.
Create your own Gatehouse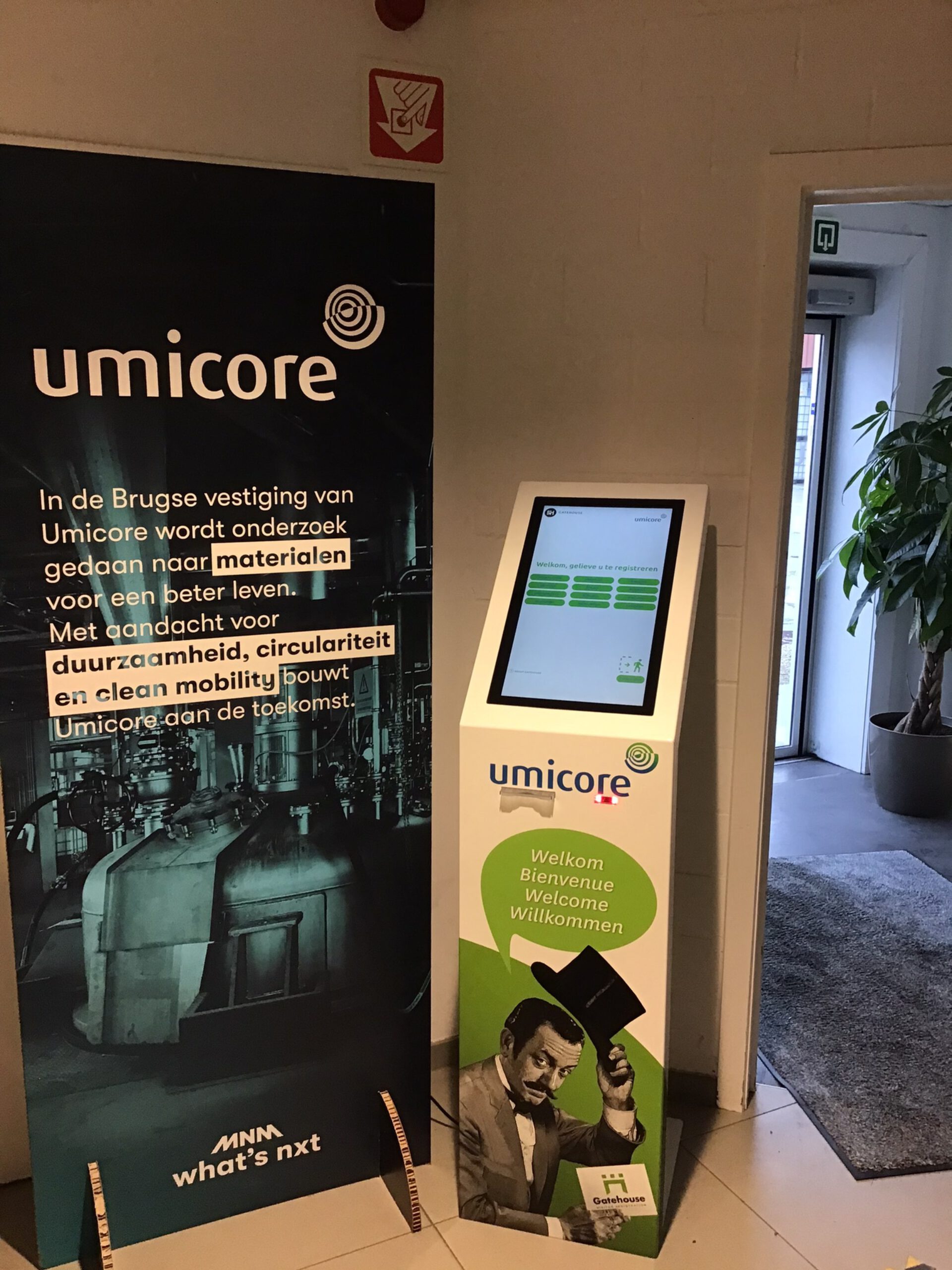 Welcome Umicore Bruges!
We proudly present to you our newest Gatehouse customer: Umicore Specialty Materials Brugge.
No more paperwork. Security is a top priority at Umicore, it is very important to know who exactly is present on the site. Every visitor to the USMB site must sign in at the reception desk. From now on there is a lot of time saved for the employees within Umicore, because the paper registration disappears and all visitors are registered quickly and easily with Gatehouse digital visitor registration. While registering, visitors are shown important safety instructions. Which ensures that safety is only increased on and around the USMB site.
Gatehouse® electronic visitor registration
Gatehouse® electronic visitor registration is a software tool that allows all kinds of visitors to electronically register themselves upon arrival and departure in your company. Gatehouse® can be used in unmanned and manned receptions. By registering your visitors electronically, you can find out at any time who is or was present in your company and when. In just a few clicks you can see who is or was in your company and when. This can be "ad hoc" in case of serious incidents such as fire or danger in order to find out which non-employees are present in the building.
But this can also take place over a longer period of time in the past in the context of justification for certain certificates, to check invoices, ...

Gatehouse® visitor registration is a web-based cloud solution that does not require any software to be installed locally. This ensures that the application can easily be used on all types of hardware (PC, thin client, All-in-one, ...). No specific hardware is required, only a device (with USB input) with a browser, a printer to print labels and a scanner to check out your visitors is sufficient. In addition, this offers the possibility to easily deploy the visitor registration software in multiple company sites and/or entrances where visitors have to log in. Also in the cloud, no specific installation is required: the entire setup is done by simple parameterization.